>
BCI Forecaster Report: Australia (July 2023 – September 2023)
BCI Forecaster Report: Australia (July 2023 – September 2023)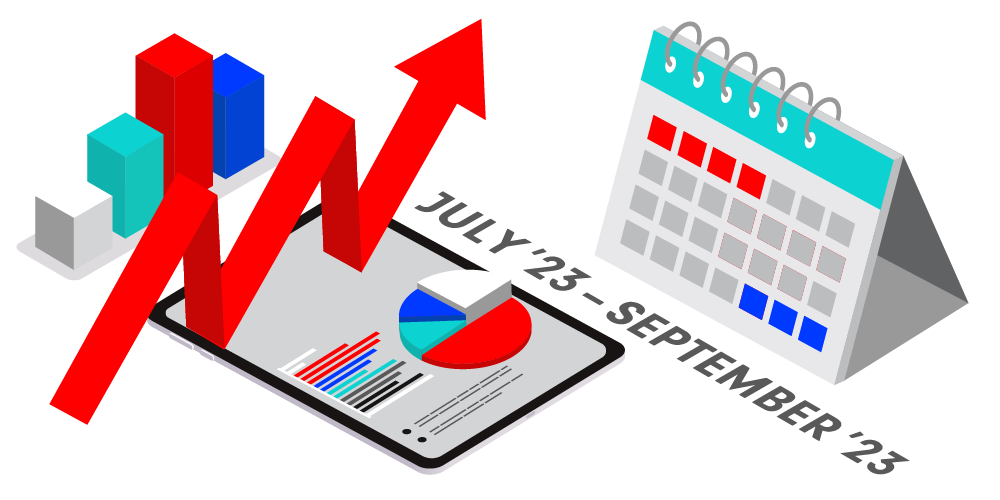 Information utilised in this report is current as of 1 July 2023.
About
The BCI Forecaster is a leading monthly indicator of construction contract values hitting the market in the upcoming three months. Construction start values are presented Australia-wide, broken down by civil and building construction as well as by five key states and six key building sectors/project categories.  
The short-term forecast is illustrated by contrasting the immediate three-month outlook against the previous three months. The longer-term trend is shown by contrasting the value of twelve months' construction starts, ending three months out, against the corresponding 12-month period a year earlier.  
The BCI Forecaster is an indispensable short-term planning tool, allowing decision makers to set realistic goals and parameters for their sales and operations teams. 
Data is based on projects reported on a daily basis by BCI Central's real-time project leads database, LeadManager. 
Snapshot
Outlook
The construction market remains vulnerable to a number of pressures such as build costs, delays, business confidence, and rising interest rates or borrowing costs. This edition, total construction starts are seen to sustain the long-term trend at a steady pace of 2%, thanks to both building and civil sectors maintaining their trajectories. On the other hand, the gloomy short-term percentages are largely influenced by high-value projects in the previous quarter that are casting a shadow on the values from the most recent three months. 
Building Sector
The residential sector continues to ease back, but the other categories can be seen rebounding in this edition. From the community sector, we have previously reported the projects supporting its healthy activity. For this period, notable community projects pushing through to construction are the CEP – Mackay Base Hospital Expansion (PID 306731017), the CEP – Cairns Hospital Expansion (PID 306725017), the CEP – QEII Hospital Expansion (PID 292726017), and the CEP – Townsville University Hospital Expansion (PID 290937017) in QLD. From the office sector, which is also maintaining a positive trajectory, the upcoming construction of the Atlassian Global Headquarters/Tech Central Sydney (PID 225060017) in NSW is livening up the sector. 
Civil Sector
The civil construction starts this quarter are characterized by the influence of a major project we have previously reported – the AUS$ 8.6Bn Woodside/BHP Billiton JV – Scarborough to Pluto LNG Plant (PID 158751017) in Exmouth, WA. Although the project continues to distort the readings for this edition, we have reported key utilities projects that are helping to boost current figures – Upper South Creek Advanced Water Recycling Centre – Stage 1 (PID 252401017), and Woodside/BHP JV – Scarborough Umbilical Risers & Flowlines (PID 163959017). In addition, we have reported the commencement of Wambo Wind Farm (PID 209335017). 
To view more data for building (residential, community, education, office, industrial, retail and hospitality) and civil (infrastructure, transport, utilities) construction projects, download a copy of our Australian construction industry forecast (July 2023 – September 2023).  
Related Posts