>
Construction Industry Insights @ Sydney Build Expo 2023
Construction Industry Insights @ Sydney Build Expo 2023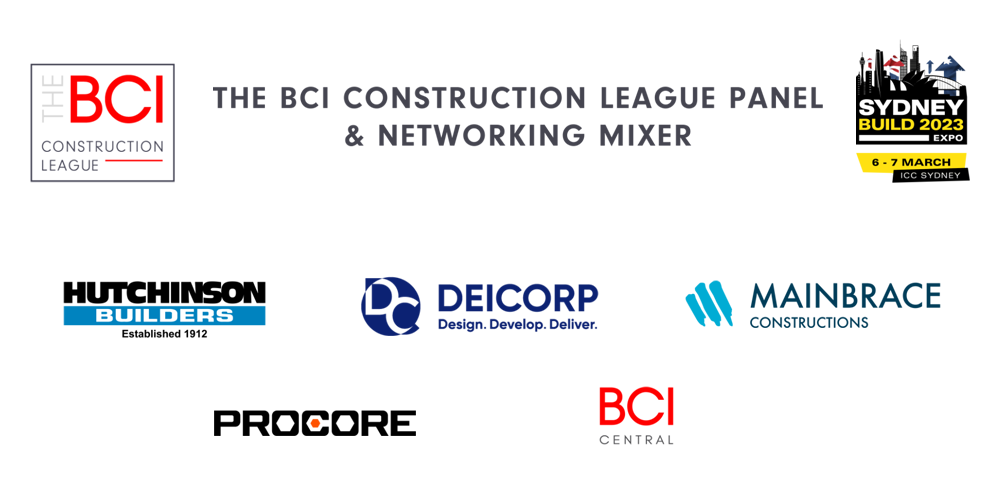 For the second year in a row, BCI Central was proud to host the BCI Construction League Networking & Panel discussion at Sydney Build Expo 2023, Australia's largest construction and design show.
BCI Construction League Panel & Networking Mixer
With panellists from some of Australia's top construction firms, as well as experts in digital strategy in the industry, we jumped into topics including the role of build-to-rent in the market, the impact of upcoming sustainability policies, as well as opportunities for 2023. 
We spoke to:  
Build-To-Rent Model of Construction
The build-to-rent model of construction is a relatively new concept on Australian shores but is set to feature more prominently in our residential landscape. Our panellists discussed how longer, and more secure property leases could help to address housing affordability issues.  
This build-to-rent model is appealing to renters for several reasons: locations in convenient spots near hospitals, universities and CBDs; higher quality finishes, facilities and communal environments; long lease options of at least 3 years, which is hugely important for those seeking stability and security; and they've become a popular alternative to senior's living villages for those over 50 wanting to live in urban areas.  
Additionally, they're becoming appealing for developers in that the units provide a steady income, the size of the projects often makes them relatively cost efficient, and there can now be significant tax benefits, most introduced in 2021.  
Sustainable Buildings SEPP
Announced in 2022, and to be fully implemented by October this year, the Sustainable Buildings SEPP essentially increases the current requirements for residential builds and sets new standards for non-residential buildings. It's a big step in Stage 1 of the NSW Net Zero Plan which aims to cut 50% of carbon emissions by 2030 compared to 2005 levels. The sustainability measures centre around water and energy standards, carbon emissions and quantifiable embodied carbon. 
Panellists agreed that the way we think about the built environment plays a fundamental role in the design and construction of sustainable buildings i.e., the way a space can capitalise on natural light and ventilation, or the selection of construction materials that are less harmful to the environment in the long run. While there have been mixed opinions on the changes, it is the industry's ability to adapt and respond to these demands that will see continued positive and innovative growth in this area.  
Opportunities in 2023: Residential & Renewable Energy Project Sectors
When it came to the biggest opportunities in 2023, the infrastructure, residential and renewable energy project sectors are expected to be a standout. The NSW government has committed to developing its infrastructure through significant investment in transport, housing and education. This will lead to an increase in opportunities for the construction industry in the state, such as road upgrades, light rail extensions, and new hospital and school builds. In the residential space, the demand for affordable, quality housing continues to grow in NSW. As a result, builders can expect to see significant opportunities in residential construction, particularly in the outer suburbs and regional areas. The state government also plans to invest in projects that focus on sustainable energy solutions. These plans include wind farms, solar power plants and hydroelectricity. As such, builders who specialise in renewable energy construction will have a significant opportunity in the coming years. 
The panellists also highlighted the collaboration between builders, developers and clients to overcome challenges in the industry. The focus was on reducing inefficiencies, the fragility of the global supply chain and the resulting increase in domestic manufacturing, and the role of data and technology solutions moving forward.  
BCI Central facilitated an engaging and informative discussion that provided valuable insights into the current state of Australia's construction industry, and the challenges and opportunities that lie ahead. It was great to hear from some of Australia's key voices in the building and construction landscape at Sydney Build Expo 2023. 
Download a copy of the BCI Construction League to view the top 50 construction companies.
Didn't get a chance to attend? We've got you covered! Watch the BCI Construction League Panel & Networking Mixer.
Related Posts