>
Archify Partners With NBS and SCL Schumann
Archify Partners With NBS and SCL Schumann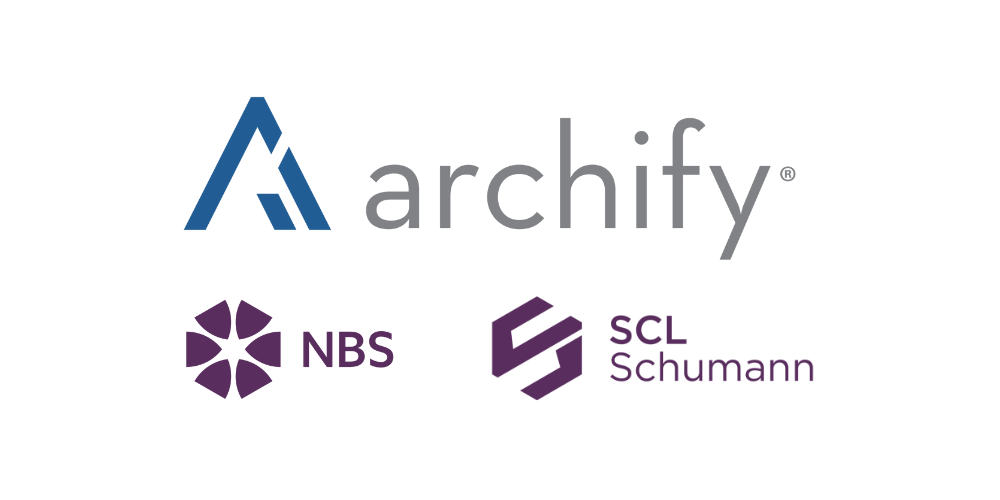 BCI Central is excited to announce the partnership of Archify, NBS Australia and SCL Schumann!
Since its inception in 2019, Archify has delivered a suite of unparalleled architectural services to both design professionals and building product suppliers and manufacturers. The foundation of the business; an online product platform, has quickly become an invaluable tool for thousands of architects and designers across Australia for project inspiration and product specification. Archify's success has been fuelled by the hundreds of brand profiles on the platform, providing users access to 30,000+ products from leading suppliers in the Australian industry. We are proud to have supported you, our clients, with heightened brand awareness and engagement with the design community.  
NBS is a global technology platform for everyone involved in the design, construction and supply of the built environment. NBS has been established for some 50-years in the UK and entered the Australian market in 2017 with their specification writing software; Chorus. Chorus enables architects, designers and engineers to create technical specifications in the cloud on any device. In 2020, NBS launched Source, an online construction product directory, similar to Archify, that allows specifiers to find and browse products and manufacturers using intuitive search, select and compare products using structured properties, values and technical information, and specify products directly into their project specification, 3D model or both, via full integration with NBS Chorus. 
SCL Schumann have been providing their specification consulting service to Australian professionals since 2013. SCL has developed baseline specifications, processes, systems and a unique set of skills dedicated to specification consulting across the globe, with tailored services suitable to each region it serves. SCL services over 100 of the largest architectural practices in Australia and abroad, at a rolling project value in excess of $70 billion, their clients include BVN, PTW, Cox, Hassell, Architectus, SJB and Bates Smart to name a few. 
With complimenting goals and shared objectives for the industry, the Archify, NBS and SCL partnership will harness the natural synergy between the three organisations to present an even stronger offering to the Australian market. The Source platform will be integrated into Archify bringing extensive specification and technical information. Chorus specification writing software will also be integrated with Archify which will allow Chorus users, along with the SCL team, the ability to, at the click of a button, specify thousands of products from local and international brands available on Archify. For organisations requiring the preparation of specifications or specification writing support, SCL will continue to provide their expertise to the industry using the advanced capabilities of Chorus. 
What does this mean for you?
Archify will be adding additional tiers to our membership structure. All members will now have the opportunity to have their products and associated specification information available in Chorus for design professionals to use on their projects. Every time your product is specified in a project, you'll be notified. We'll let you know what practice has specified you, what product they have specified and for what project. Chorus becomes your direct link to live project specifications in the Australian market. 
In addition, adding your products to Chorus will make them available to the specification writing team at SCL who currently specify over 2,000 products a month for top tier architecture practices around Australia.  
One of the most important parts of getting specified and staying specified is the level of technical product detail available. With this partnership, Archify is proud to offer a new supporting service to enhance your product data and align it to industry standards. All enhanced products will also have priority listing in Chorus, making it easier for design professionals to specify quickly and accurately.   
What's happened so far
July 2022: The SCL Schumann team started transitioning to NBS Chorus and using it as their primary specification writing software. 
August 2022: All product suppliers on NBS Source join the Archify platform.  
What's coming
Q4 2022: Chorus is connected to Archify. Each Archify member that is connected to Chorus will receive an upgraded Analytics page, showing engagement on the Chorus platform as well as project specifications.  
2023 onwards: Archify will be promoting the partnership with NBS and SCL Schumann through launch parties held at all major Equinox events.  
We are looking forward to working together with NBS and SCL Schumann to support you and your business in your specification strategy for 2022 and beyond.  
Related Posts