>
BCI Asia Awards Indonesia 2022
BCI Asia Awards Indonesia 2022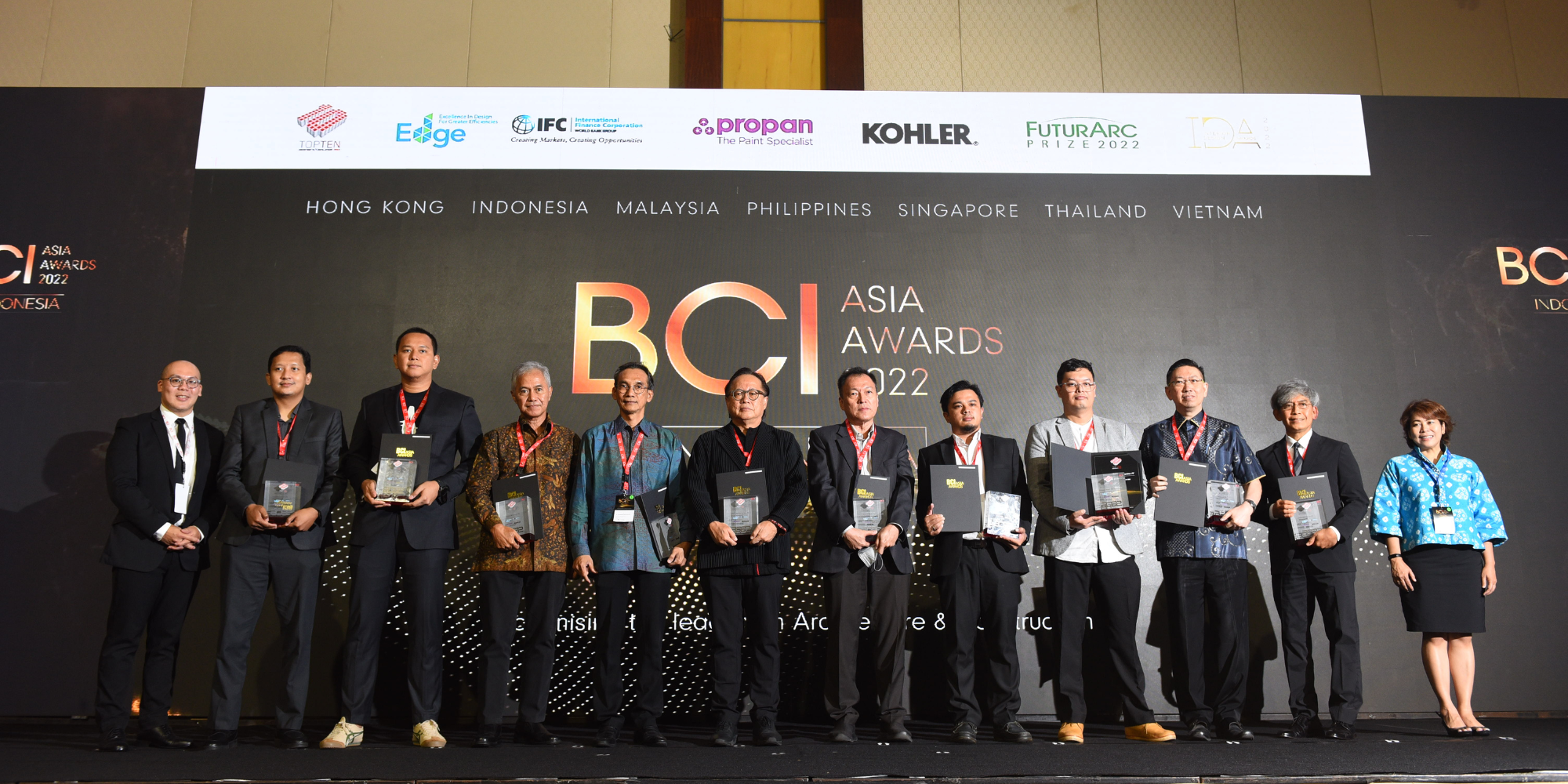 On Tuesday 23 August, BCI Central was proud to host BCI Asia Awards Indonesia!
The event, held at the Ritz Carlton Hotel – Jakarta Pacific Place, recognised the top 10 property developers and the top 10 architects in Indonesia, ranked by the total value of projects under construction in 2021, and weighted by the extent of their sustainability efforts. For architecture firms, pre-tender projects were included to recognise early incorporation of Green-design efforts.
The occasion celebrates key industry players' achievements over the past year and provides an opportunity for guests to network and connect. It also encourages the creation of socially responsible architecture.
The following esteemed guests of honour were in attendance:
Mr. Andi Rukman N Karumpa, General Secretary of Indonesian Association of Builders (GAPENSI)
Mr. Teguh Ariyanto, Secretary of IAI Jakarta
Mr. Iwan Prijanto, Chairperson of Green Building Council Indonesia
Congratulations to all the award winners!
Top 10 Developers 2022
Agung Podomoro Land Tbk PT
Agung Sedayu Group
Alam Sutera Realty Tbk PT
Ciputra Development Tbk PT
Lippo Group
Modernland Realty Tbk PT
Paramount Land
Sinar Mas Land
Summarecon Agung Tbk PT
Triniti Land
Top 10 Architects 2022
Airmas Asri PT
Alien Design Consultant
Anggara Architeam PT
Arkonin PT
Duta Cermat Mandiri PT
Megatika Grahalestari Internasional PT
Pandu Persada PT
PDW (Pandega Desain Weharima PT)
Penta Architecture (Penta Rekayasa PT)
Wiratman PT
The 2022 FuturArc Prize (FAP), Asia's leading Green design competition, three student teams from Indonesia presented with awards. Second place went to Gevin Timotius, Favian Rifqi, Ahimsa Sirait, Eistein Benedito and Aldrianta Pribadi for the proposal titled Biodivercity. Merit awards went to FluxToActive by A Christian Pratama Putra, Kurniawan Abednego Putratama and Rian Kunto Prabowo; and 1,700 Footsteps of Imagination by Aprilia Gita Siswantari and Arie Pandi Pratama.
Interior Design Awards (IDA) 2022 saw two Merit recipients in the Small category from Indonesia, namely Bobocabin Family by Bobobox Mitra Indonesia and Setara Clinic by Dwellingpals Studio.
Thank you to all those who attended and to our event partners for helping make this occasion such a success.
Awards & event partners:
IFC – International Finance Corporation, PT Propan Raya ICC & Kohler
To keep track of BCI's events, visit: https://www.bcicentral.com/all-events/
To view the gallery of BCI's events, visit: BCI Asia Awards Indonesia 2022
Related Posts