>
BCI Asia Awards Singapore 2022
BCI Asia Awards Singapore 2022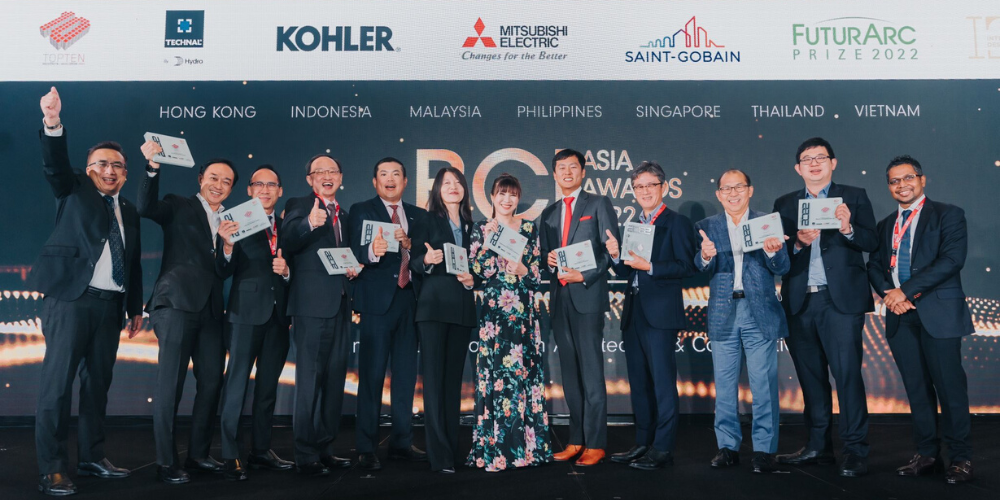 On Friday 24 June, BCI Central was proud to host BCI Asia Awards Singapore!
The event, held at the Fairmont Hotel, recognised the top 10 property developers and the top 10 architects in Singapore, ranked by the total value of projects under construction in 2021. These rankings were also weighted by the extent of the firms' sustainability efforts, encouraging the creation of socially responsible architecture.
Congratulations to all the award winners!
Top 10 Architects 2022
3PA Pte Ltd
ADDP Architects LLP
AWP Pte Ltd
DCA Architects Pte Ltd
DP Architects Pte Ltd
ID Architects Pte Ltd
KYOOB Architects Pte Ltd
P&T Consultants Pte Ltd
RSP Architects Planners & Engineers
Surbana Jurong
Top 10 Developers 2022
City Developments Limited
CK Asset Holdings Limited
Ho Bee Land Limited
Keppel Land Limited
MCC Singapore
Qingjian Realty (South Pacific) Group Pte Ltd
Soilbuild Group Holdings Ltd
TID Pte Ltd
Tuan Sing Holdings Limited
Wee Hur Development Pte Ltd
The keynote speech was delivered by Mr Melvin Tan, SIA President, Deputy Managing Director and Founding Partner at LAUD Architects Pte Ltd. It was followed by an Industry Expert Presentation by Mr Owen Wee, Principal Architect of SJ Architecture, Surbana Jurong.
The event also saw the FuturArc Prize (FAP) 2022 Merit awarded to Benjamin Chong Mun Choen, a recent graduate of the Singapore University of Technology and Design. Winners of the Interior Design Awards (IDA) were also announced through a video presentation.
Thank you to all those who attended and to our exhibitors for helping make this such a success.
Awards & event partners:
Technal, Kohler, Mitsubishi Electric & Saint-Gobain
To keep track of BCI's events, visit: https://www.bcicentral.com/all-events/
To view the gallery of BCI's events, visit: https://gallery.bcicentral.com
Related Posts