>
BCI Sector Snapshot: Education in Asia
BCI Sector Snapshot: Education in Asia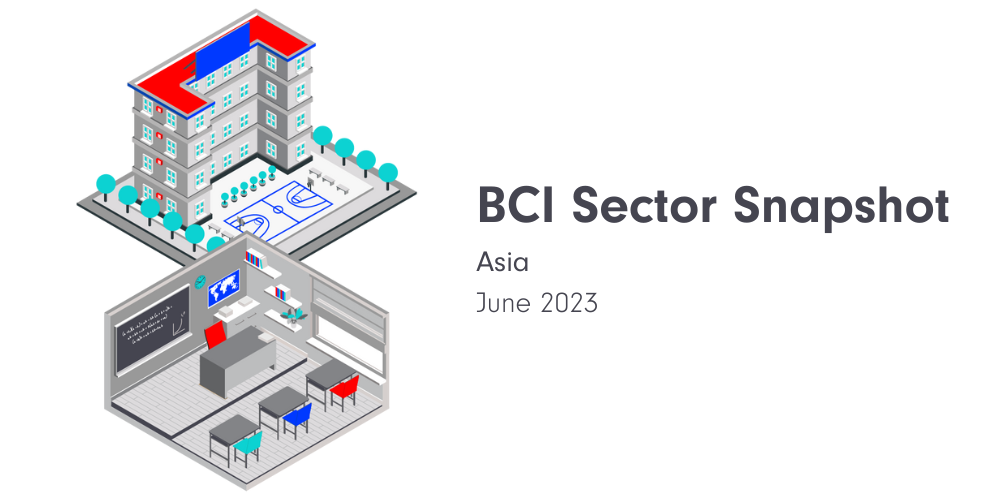 The BCI Sector Snapshots are a new series of free reports, sharing top-level insights into Asia's key construction sectors. This month, we focus on the Education sector, including childcare centres, research centres, laboratories, schools, universities and colleges. 
Get the total number and value of active projects broken down into national figures, construction stages, and regional figures (where applicable), with further details on key market players and noteworthy projects. 
BCI LeadManager provides detailed insights into what the office sector's leading developers, architects and builders are working on, while BCI Analytix takes a deeper dive into the sector's overall state of market and key players.   
In the BCI Sector Snapshot report, we've ranked the top three developers, architects and builders based on total construction project value. 
As reported by BCI in June 2023, have a look at what's happening in the education sector across seven key markets in Asia!  
---
Hong Kong 
220 active education projects, worth approximately 57.83 billion HKD 
---
Indonesia 
1,542 active education projects, worth approximately 24.54 trillion IDR 
---
Malaysia 
1,303 active education projects, worth approximately 11.46 billion MYR 
---
Philippines 
970 active education projects, worth approximately 73.88 billion PHP 
---
Singapore 
397 active education projects, worth approximately 4.81 billion SGD 
---
Thailand  
1,106 active education projects, worth approximately 45.30 billion THB 
---
Vietnam 
2,118 active education projects, worth approximately 169.66 trillion VND 
Related Posts