>
BCI Sector Snapshot: Hospitality in Australia
BCI Sector Snapshot: Hospitality in Australia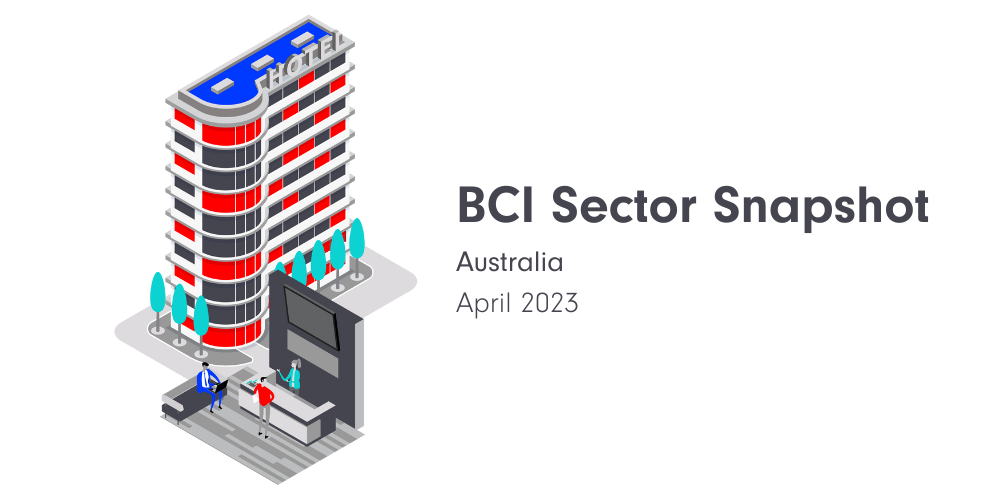 Download your free copy of the Sector Snapshot: Hospitality
Australia's hospitality sector plays an important role in the country's economy. While the pandemic posed a number of challenges for the industry, the relaxation of travel restrictions has led to renewed consumer confidence.  
As of April 2023, BCI is reporting on 1,233 active hospitality projects in Australia, inclusive of hotels, motels, resorts, caravan parks and serviced apartments. NSW/ACT have the largest number and total value of projects, with 525 projects worth almost 16.9 billion AUD. While VIC/TAS/SA saw the second largest number of projects (432), it is QLD/NT/Other Territories that have the second largest total value, with just 191 projects worth over 14.3 billion AUD.  
Plenty of opportunities can be found across this sector as the majority of hospitality projects (73.72%) are currently at the Design & Documentation stage of construction, with plans being submitted and products being specified. Meanwhile, just under 80 projects are sitting in the Pre-Construction stage, with tenders being called and preferred contractors being shortlisted. 
While BCI LeadManager offers detailed information on active hospitality projects in Australia, BCI Analytix allows us to take a closer look at the sector's key market players.  
Nine different companies feature in our Key Market Players section, where we've ranked the top three developers, architects and builders based on total construction project value (as reported by BCI Central over the past 12 months). Atlassian's founder, Mike Cannon-Brookes, Fender Katsalidis Mirams Architects Pty Ltd – Sydney, and Built NSW Pty Ltd – Sydney ranked as the number one developer, architect and builder respectively. 
For more details, download your copy of the BCI Sector Snapshot: Hospitality.
---
Explore our range of free Sector Snapshot reports below: 
Related Posts