>
Industrial Sector Snapshot Report in Australia 2023
Industrial Sector Snapshot Report in Australia 2023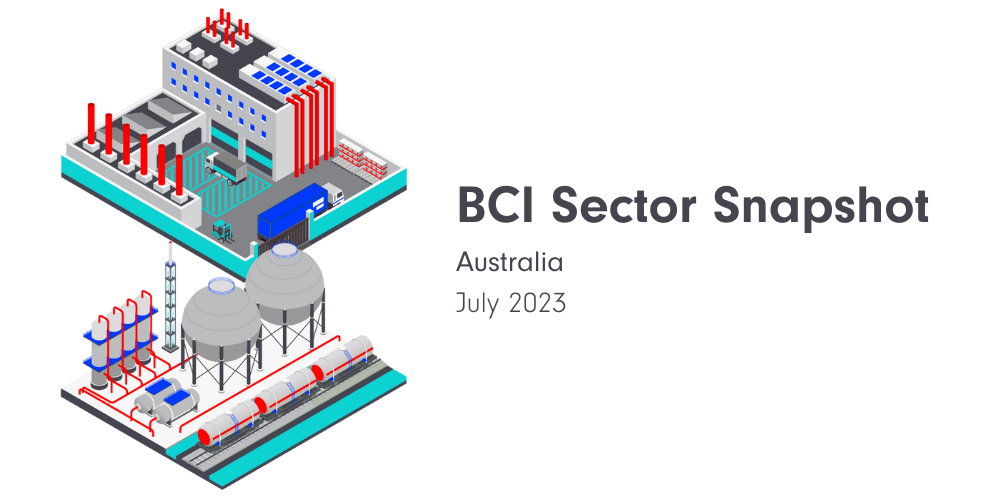 Download your free BCI Sector Snapshot: Industrial report
There is increasing demand for high-quality industrial space within a reasonable proximity from major customer bases, resulting in a redevelopment theme in the sector. Some owners are demolishing older stock and rebuilding warehouses that meet the needs of their tenants: automation-ready with the sustainability features needed to meet net zero carbon commitments. 
Industrial Construction Sector Analysis in Australia 2023
As of July 2023, BCI is reporting on over 3,500 active industrial projects in Australia, worth approximately 64 billion AUD. Warehousing and logistics projects take up the lion's share of construction activity in the sector, with workshops, agricultural, manufacturing and processing facilities and more also in the pipeline. The majority of industrial builds (73.83%) are at the Design & Documentation stage of the development pipeline. Approximately 50% of the total value of industrial projects can also be attributed to work at Design & Documentation, where development and building approvals are submitted and assessed by the council or relevant consent authority.  
While WA has the lowest number of active industrial projects across the country, the state boasts the highest total value of work, with an impressive 21.62 billion AUD. Comparatively, NSW/ACT has the highest number of projects (1,475), but the total value of these come in at just over 17.42 billion AUD. 
For more information, click here to download your copy of the industrial sector snapshot report in Australia 2023.   
VISY GLASS PROJECT APOLLO – FEATURED INDUSTRIAL PROJECT
PID:

46822021

 

Approximate Value:

500M AUD

 

 

Project Type:

Glass Manufacturing & Recycling Facility

 

Sector:

Industrial

 

Stage:

Design & Documentation

 

Location:

Gold Coast, Queensland

 
*All values as of 24 July 2023 
Key Market Players in the Industrial Sector
Our Sector Snapshot report ranks the leading developers, architects and builders based on their total construction project value over the past 12 months, as reported by BCI Central. Woodside Energy Ltd – Headquarters, SBA Architects Pty Ltd, and FDC Construction & Fitout (NSW) Pty Ltd ranked as the top developer, top architect and top builder respectively.  
Discover the complete list of the top 3 developers, architects and builders in our industrial sector snapshot report in Australia 2023. 
Industrial Construction Leads & Project Database
BCI LeadManager offers comprehensive information on the projects undertaken by the top developers, architects and builders in the industrial sector. Additionally, BCI Analytix provides in-depth analysis of construction activity by sector, stage and location, as well as the sector's prominent market players.  
For further details, download your copy of the BCI Sector Snapshot: Industrial. 
---
Explore our range of free Sector Snapshot reports below: 
Related Posts